About
Court appointed special advocate (CASA) and guardian ad litem (GAL) volunteers(what they're called varies by location) are well-trained and speak in court for the best interest of children experiencing abuse and neglect. These children are in court due to no fault of their own.  
CASA/GAL volunteers are appointed to a case by the judge. The volunteer's goal is to provide a carefully researched background of the child to help the court make a sound decision about the child's future. Each home placement case is as unique as the child involved. The CASA volunteer researches the child's best interests to stay with his or her parents or guardians, be placed in foster care, or permanent adoption. The CASA/GAL volunteer makes a recommendation on placement and follows through on the case until it is permanently resolved. CASA/GAL volunteers are often the only stable factor in an often frightening and difficult ordeal for a child. 
Our best interest advocacy is driven by the guiding principle that children grow and develop best with their family of origin, if that can be safely achieved. Most of the children we work with are in foster care, but some are with their family of origin. And, most children who leave foster care do so to return to their family.
The Washington CASA Association raises awareness of the CASA/GAL movement in Washington, and supports local CASA/GAL programs in the state as they recruit, screen, train and support volunteers. Each volunteer is trained and supported by highly effective staff members from local programs who, in turn, are supported by National CASA/GAL for Children. Washington CASA Association is a proud membership organization of National CASA/GAL and over the next few years, we will be building towards becoming a highly effective association. To learn more about this process you can download the PDF here. For more information on becoming a CASA/GAL volunteer, click here.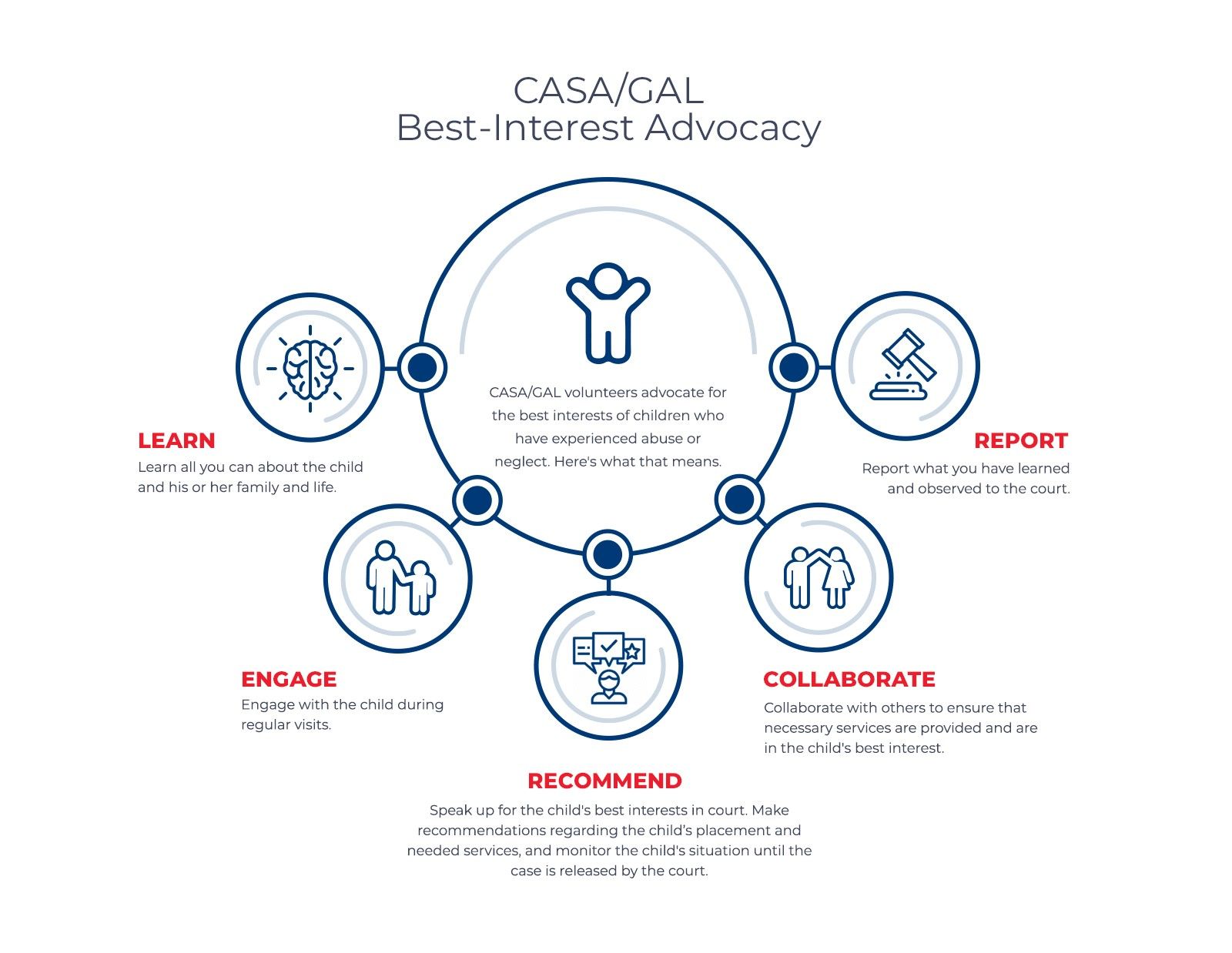 Mission
The Washington CASA Association supports and promotes court appointed volunteer advocacy so every child who has experienced abuse or neglect can be safe, have a permanent home, and the opportunity to thrive.
Vision
A world where every child who has experienced abuse or neglect is given the opportunity to thrive in a safe and loving home.
History
In 1977, a Seattle juvenile court judge was concerned that making drastic decisions with insufficient information conceived the idea of citizen volunteers speaking up for the best interests of abused and neglected children in the courtroom. That first CASA program has grown a network of more than 951 CASA and guardian ad litem programs that are recruiting, training and supporting volunteers in 49 states and the District of Columbia.
Our Commitment to Diversity, Equity, Inclusion
The Washington CASA Association is committed to supporting local CASA programs to help every child find a safe, permanent, and nurturing home. To do this effectively, we believe a commitment to diversity must be at the forefront of our work because it paves the way for equity, inclusion and healthy, more vibrant futures for our children. We recognize the history of oppression and systemic racism that has resulted in ongoing disparities for some communities, especially communities of color, and see the opportunity before us to mobilize our powerful network of CASA programs to create positive systemic change. We pledge to engage a diverse community of allies who are vested in a child's well-being so that we break the cycle of abuse and neglect. Washington CASA Association is committed to confronting our own biases and operationalizing our values. We know that intention alone will not effect meaningful change in the lives we serve. Our mission and vision that every child who has experienced abuse or neglect is given the opportunity to thrive in a safe and loving home, moves us to confront frameworks of oppression. Within our work, we aspire to building opportunities for learning, change and accountability. Our mission is urgent, and we will always be learning. We will make mistakes and own our responsibility for corrective action. Washington CASA Association is committed to our own equity journey, and cultivating the diversity of our board and staff and the broader community of CASA volunteers and programs that contribute to broad inclusiveness and equity in the child protection system in Washington.
 Approved by the Board of Directors April 9, 2020